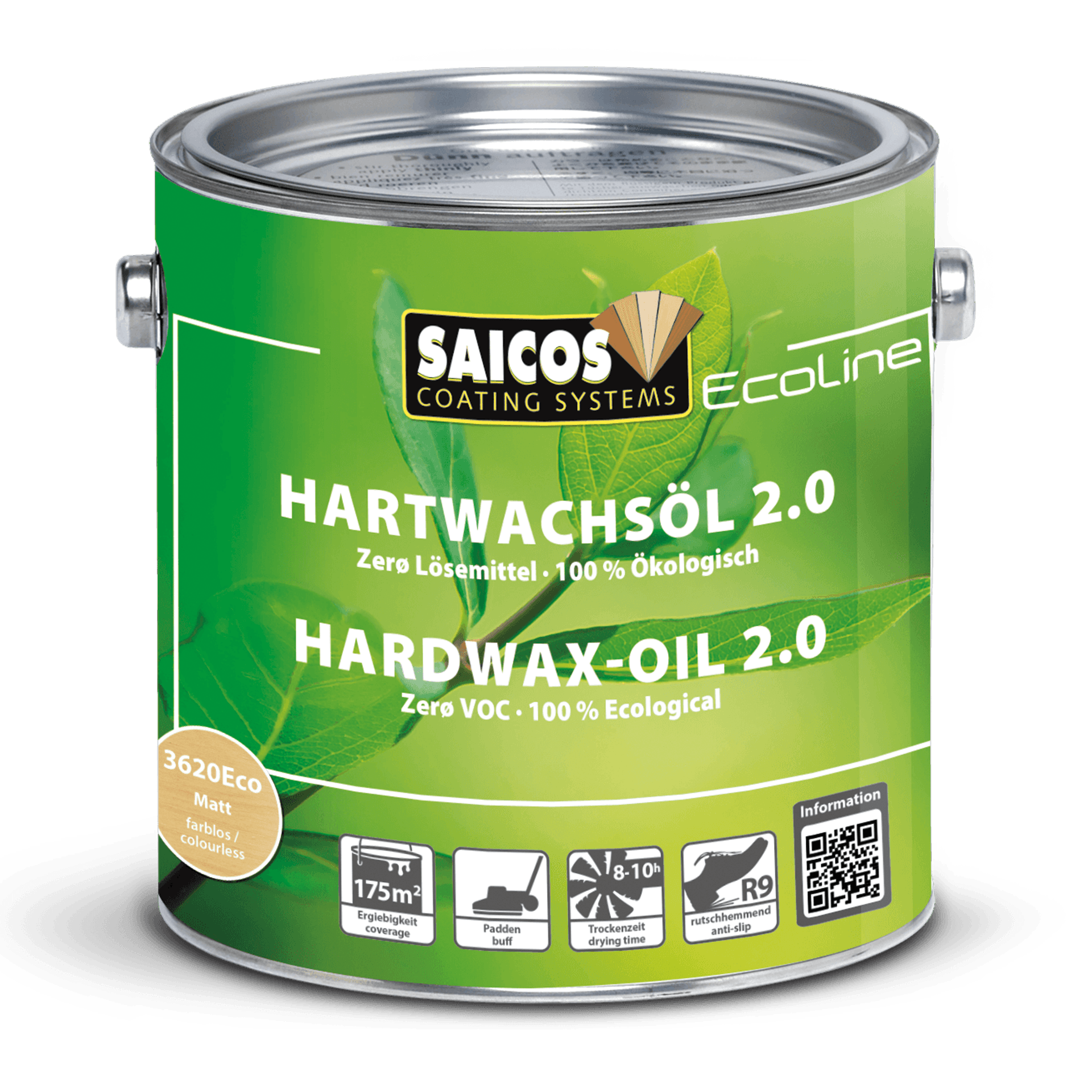 SAICOS Ecoline Hardwax-Oil 2.0
The future is solvent-free - our Ecoline Hardwax-Oil 2.0 also
Pure nature in your living room – possible with our Ecoline Hardwax-Oil 2.0. Resistable, durable and also environmental gentle? Not feasable? Yes it is! With Ecoline Hardwax-Oil 2.0. The new solvent-free Ecoline Hardwax-Oil 2.0 combines the well-known, high SAICOS quality with the ecological requirements of our time. With its natural ingredients it creates a natural yet also extremely abrasion resistant wooden and cork surface which can be cleaned easily.
Benefits
For all wooden and cork floors, tables and worktops as well as other heavily used wooden surfaces
Solvent-free, natural, environmentally-friendly
Extremely durable
Stain-resistant
Oxidative drying
Dealers near you >
The ecological wood coating for everyone
Our wooden floor has to withstand a lot in everyday life. Food leftovers, children's toys, but also dirt and grime put a lot of strain on the expensive wooden and cork flooring. It is therefore particularly important to choose the coating carefully. With the Ecoline Hardwax-Oil 2.0 you combine perfect protection with ecological demands. And the best: It is solvent-free! Based on natural oils and waxes, you get an abrasion-resistant and extremely hard-wearing surface, which is also healthy and breathable. With its slip-resistant surface in accordance with R9, the well-known risk of slipping on wooden floors is reduced.
And whoever thinks that such a floor is difficult to clean is wrong! A surface coated with Ecoline Hardwax-Oil 2.0 is dirt-repellent and therefore only needs to be wiped with a damp cloth.
If at some point a renovation is necessary, this can be done without laborious sanding of the surface.
Green, greener, Ecoline
The future is green! Green like our Ecoline series. For years, the ecological footprint has been moving more and more into the consciousness of society. We had recognized this and developed the environmentally friendly Ecoline product line 10 years ago, which includes particularly sustainable products with a low solvent content. To complete the portfolio, the Ecoline series has even been supplemented with a completely solvent-free Hardwax-Oil.
Additional Hardener 2K for special requirements
For an even stronger surface quality, the additive Hardener 2K can be added to the Ecoline Hardwax-Oil 2.0. In this way, the treated surface becomes resilient and more wear-resistant earlier.
The quantities in the tins exactly match the respective can contents of the Ecoline Hardwax-Oil 2.0 (0.75 L and 2.5 L).