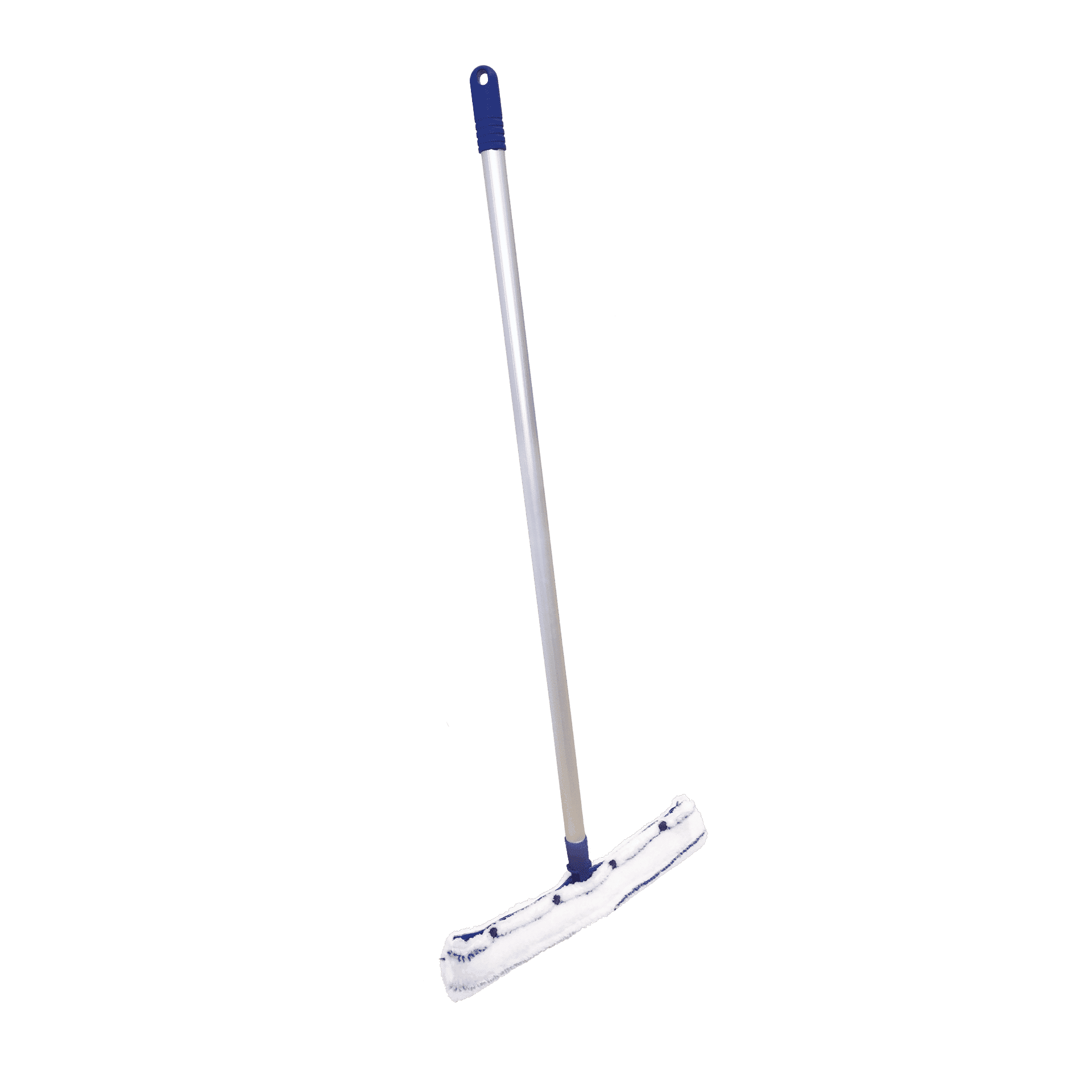 SAICOS Telescope-Maintenance Cloth
Extendable telescopic wiper with special cloth
Everything is easier with the right tools, including the cleaning and treatment of floors: With our combination set consisting of telescopic wiper and special cloth, you are perfectly armed in terms of cleaning or treatment and can work with ease. With the help of an ergonomically shaped handle and the joint, which also makes it possible to clean at steep angles, cleaning is especially easy with the telescopic wiper.
Benefits
Set: Telescopic wiper and 1 special cloth
Length of the telescopic rod: 1.05-1.85 m
Helpful joint with angle
Dealers near you >
Wiping made easy
The telescopic rod is extendable and can be adjusted to any body size. It reaches a length of up to 185 cm. The joint at the end of the telescopic rod also makes it possible to clean at steep angles so that difficult to reach areas can be treated easily. In addition to the telescopic wipers, it also includes a special cloth: Thanks to the simple fastening mechanism, the cloth can easily be attached to the telescopic wiper using press buttons.
The cloth that is fastened to the telescopic wiper is particularly durable and, thanks to its surface structure, not only reliably wipes up paints, oils or stains, but also cleaning products. This means that even large areas can be treated in one go without having to use additional material. The towels to match the telescopic wiper are also available separately and can be cleaned in the washing machine. Suitable for other articles: SAICOS Wax Care, SAICOS Wash Care Concentrate and SAICOS Ecoline MultiTop Lacquer Polish.
Individual adjustment
The telescopic rod can be reliably and safely adjusted to your size in just a few simple steps. The application: Simply turn, pull out the rod to the desired length and turn in the opposite direction. The telescopic wiper has a practical hanging loop at the end of the rod and is therefore particularly easy to store.
Into every corner
The joint enables particularly easy handling without any physical effort. Steep angles can be reached for easy cleaning, and cleaning is also possible under cupboards or the bed. This hinge function is also an advantage when stowing, making the telescopic wiper a space saver as well.